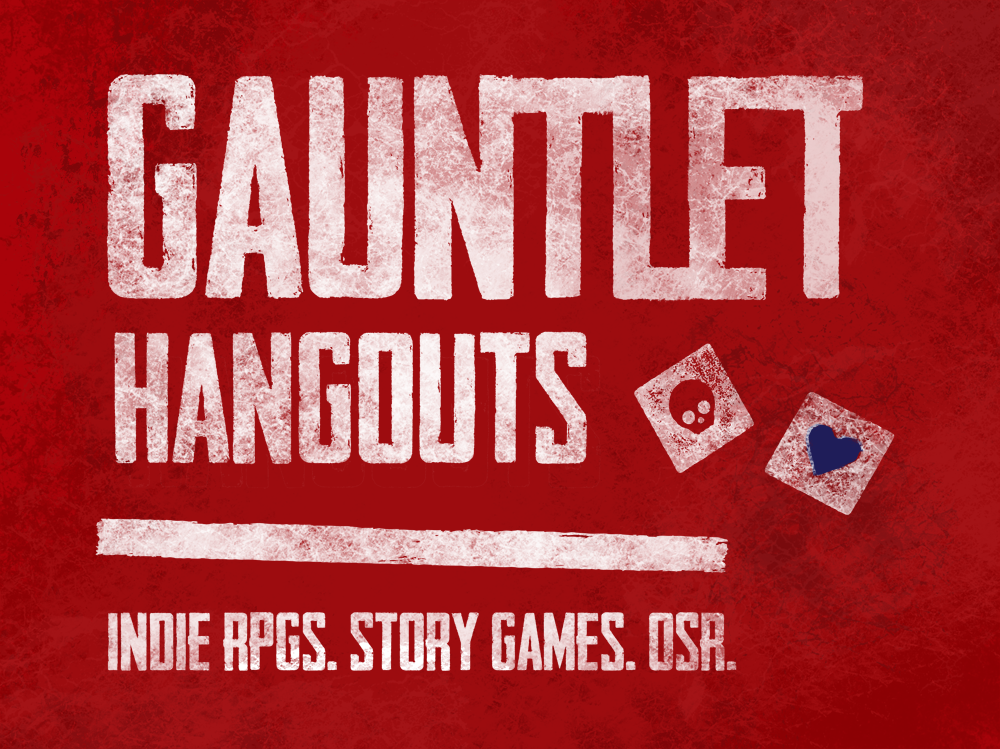 Greetings, all! The weekly Gauntlet Hangouts video roundup post is now up on The Gauntlet Blog! This week features sessions from games like Dialect, The Warren, Freebooters on the Frontier, and of course many more! Check it out, and be sure not to miss all the other great Gauntlet Blog posts from the week!
https://www.gauntlet-rpg.com/blog/gauntlet-video-roundup-february-22-2019
Thanks go out to all our Gauntlet Hangouts videos game runners, facilitators, and players this week, including: Agatha, Alejandro Duarte, Alex McManamon, Alex Meltsner, Alexi Sargeant, Alun R, Asbjørn H Flø, Asher Silberman, Auzumel S, Barry Cook, Ben Swinden, Bethany H, Brett WH, Bryan Lotz, Carmina Marin, Catherine Ramen, Chris Challice, Chris Newton, Christo Meid, Darold Ross, Darren Brockes, David LaFreniere, David Morrison, Donogh McCarthy, Eike K., Fernando Dolande, Ferretheim Games, Fraser Simons, gene a, Horst Wurst, James Lader, Jen, Jesse Abelman, Jim Crocker, josh gary, Kurai, Kurt Potts, Leandro Pondoc, Lowell Francis, Lu Quade, Ludovico Alves, Luiz Paulo S F, Michael Mendoza, Mike Panciera, Misha B, Moisés Delgado, Noella Handley, Pat Perkins, Patrick Knowles, Paul Staxx Spraget, Peter Mazzeo, Philipp Neitzel, Richard Rogers, Richard Ruane, Robbie Boerth, Robert Ruthven, Roxanne, Ryan McNeil, Sabine V, Sam Zeitlin, Sarah J, Seraphina Malizia, Simon Landreville, Stentor Danielson, Stephen Humphreys, Steven desJardins, steven watkins, Tim Osburn, Tyler Lominack, and Walter German.