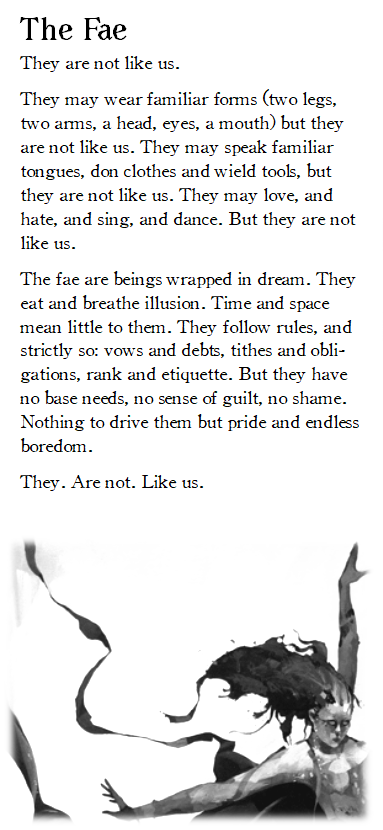 Hey all, looking to crowdsource/brainstorm ideas a little.
In Stonetop (my "hearth fantasy" Dungeon World hack), the fae are established as residing in the Great Wood near town. See the image for the text I've written on them so far.
One of my playtesters asked me for advice on portraying the fae in play, and I realized that I'm not very good at it myself.
So… What tips or ideas do you have for portraying fae like this? For making such alien-yet-familiar creatures "pop" on screen? And for emphasizing their strangeness?
If it helps, elements associated with the fae in Stonetop include:
1 Beauty/wonder/awe
2 Ugliness/horror/disgust
3 Fluidity of time and space
4 Illusion/glamor/pretense
5 Singing/poetry/art
6 Debts/vows/obligations
7 Strange, fickle customs & etiquette
8 Callousness/cruelty/indifference
9 Yearning/passion/desire
10 Dancing/revelry/sex
11 Wondrous food & drink
12 Tiny in size
Also, their history involves them having been bred, long long long ago, by the Green Lords, giants who bred and cultivated and experimented with life. I've sort of got in my mind that the Green Lords bred the fae at least in part to attend them in their false afterlives, which is why the fae are creatures of spirit and dream as much as flesh and blood.
It's also established that fae rebelled from the Green Lords, and drove the Green Lords to embrace the utterly corrupt and evil Things Below, but that the fae ultimately won.
Thanks!