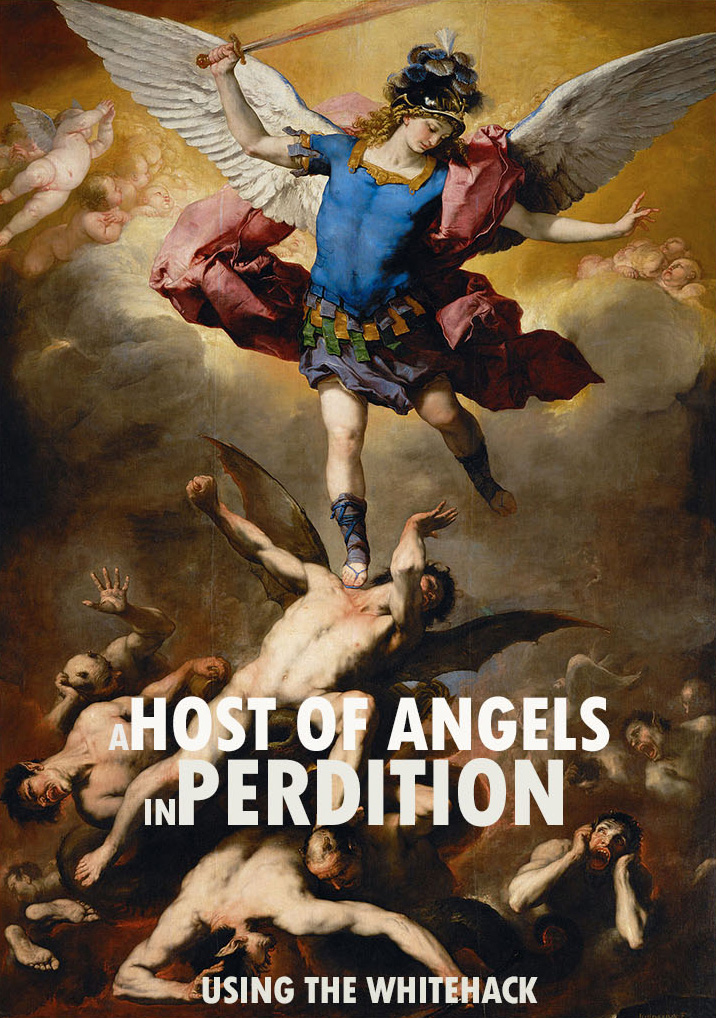 Yesterday I ran the first session of Perdition and it went pretty well. This is becoming a bit a kitbash adventure. Originally what I was going to do is craft a unique race for the characters as angels/angelic beings. But the problem with that is I was interested in making space for the characters to express their own interpretation of what a being like that would be like. Placing a static ability and modifiers to their attributes felt too restrictive.
What I ended up doing what switching to The Whitehack and giving the players an additional group–specifically Species–nebulously defined as Divine. What that means exactly, because it's a group in the game, is up to the players to define while pushing for fictional positioning that fits that subjective notion. I also added Wickedness from Perdition. A measure that will quantify the corruption that setting has on the player characters, which might also increase if they end up taking actions that would reasonably increase their corruption. I'm using the monsters and other portions from Perdition in the overall concept of the adventure.
I've ascribed the player characters' angels to the fictional choir of the Bellator, special angelic warriors that are activated when an unforeseen calamity strikes. The angels are in stasis until a danger is detected. When that happens they are dropped to another plane of existence outside of the timeline to a temporary limbo-like plane where another angel, a watcher, describes what has happened and what their mission is.
In this particular case, a demon has stolen a powerful divine object. A horn that when trumpeted 7 times, each "trumpet" taking a nebulous "age", would call forth an Armageddon. The angels are to cut down the demon and prevent this from happening.
We've gotten as far as the players getting the mission after character creation, arriving in Perdition, and combatting the guard of a place where Raphael, the angel who gave them their mission, has said they would find holy weapons. This place is called The Trickle. A fun little thing I found on Pinterest (https://www.pinterest.ca/pin/292030357079101720/)
So far I'm excited about it. There are the usual pains of getting to know a system. I've only played Whitehack myself 4 times so it was hard for me to articulate the ruleset and some stuff I just have not internalized yet. I expected that and think it's fine. I'll be prepping fairly heavily for the future sessions since it's such a weird adventure and not many tropes to draw on. In my head, the fiction looks like an animated version of classic paintings like The Fall of the Rebel Angels and others.
Anyway, so far it's going pretty well and I'm excited to play it some more and get the fiction more in hand. Thanks a lot to the players for their patience and willingness to roll with my weird idea! Lauren McManamon, Luiz, Maria Rivera, and Darren Brockes.
Here's a link to the actual play for those curious: https://youtu.be/439aOr3KzJY
And the Pinterest board: https://pin.it/cxukrmn3c53c34