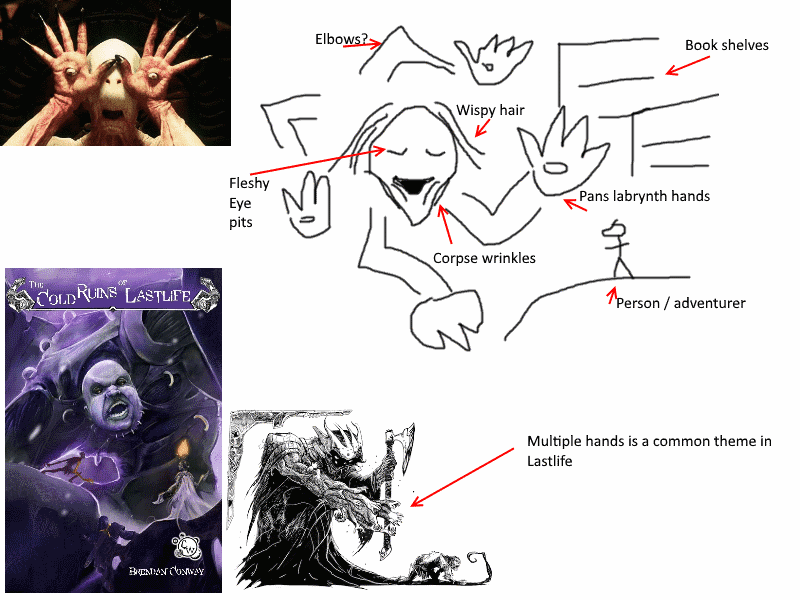 The Librarian
Warning, anyone who is frightened by concepts of possessed media (The Ring) or creepy-pasta might not want to read this. Part of me thinks this is a great example of the nature of the human brain and the power of collaborative storytelling. Another much smaller part of me hopes I can save myself from the curse by spreading it to a bunch of people on the internet.
So I had the privilege to join a game of Dungeon World with David LaFreniere, Jason Tocci, josh gary and +Simon Landerville. We were playing in a setting called "Cold Ruins of Lastlife". I was coming in late in the adventure and David was nice enough to meet me online to handle character creation and sum up the story so far. I have a distinct memory of our conversation while I skimmed through the setting book and looked at the artwork for inspiration. The very first part of the story David told me was the other characters meeting a creature called the Librarian. I don't remember his exact description but I quickly found it depicted early in the book.
Right before the end of our adventure, Jason's wizard summon an invisible monster. David described it tidying up messes, attacking demon possessed characters and "yelling from a chest with no mouth". After the game I asked what the deal was with this creature and found out that the other players recognised it as the Librarian or the same type of monster. Apparently you can't see them unless you already know what it looks like. While we were talking about this I opened up the setting book and started flipping through the pages looking for the remembered art. Apparently several of the other players did the same.
After a few minutes we all sort of got frustrated and it was soon discovered that none of us could find the picture to show the others. David and I both went through the PDF page by page to the end multiple times. We started wondering where the picture had actually come from and searched other documents in Davids google drive. We also tried google image search for the picture. Nothing even close.
Josh pointed to another drawing of a different creature and reasoned that maybe we had all assumed this was the librarian because it had multiple hands (which is a common motif in the book). But none of us seemed willing to accept that because we had a clear memory of a very different scene.
We all used the term "Pan's labyrinth guy" to describe what we thought of when picturing the librarian so David reasoned that we all just connected with this idea so strongly that we created the picture. But the strange thing is that we all remember the picture in the very distinctive black and white sketch style of the other artwork.
Finally there is a page in the pdf with the caption "Closing Thoughts" that has a border and a smokey background but is otherwise blank. It is the only page like this and it really looks like there was meant to be artwork there.
As a rational skeptic who was never really bothered by movies like the ring and various creepypasta I can intellectually accept that we all generated a clear idea, in sketch form, of what was described to us. We used the pieces available and came to something similar. The world is large enough and the human brain is amazing enough that this isn't impossible or unlikely. In fact, chances are that if we all really sketched down our memories and then viewed them objectively, we would quickly notice differences.
But as a human who spent a long time pouring over a PDF absolutely certain that something was missing (something described as invisible unless you can see it??!?!), I can't help but wonder in the dark. Maybe I will try to put my mind at ease by giving it something else to think about. Maybe I will get comfortable and sit in my bean bag chair with a used hardback science fiction book. As I open it to the marked page there is an illustration. Oh wow is that where the memory came from? No, wait, it's on every page! Getting larger. I throw the book down as the music ramps up and the pages turn as if blown by a strong wind. The effect makes the librarian appear to move and reach out…. Later the Houston gauntlet members see my name on the news. Another overweight office worker dies of a heart attack. But the tarp slips off as there moving my body and you can see the sheer terror frozen on What is left of my face…
SEVEN DAYS?
Anyway, fun story, Big thanks to the other players for a fun adventure. Tell me what you think. Does this sort of thing freak you out or make you marvel at the nature of the human brain? Also here is my best sketch along with some materials I think may have been unconsciously encorporated.