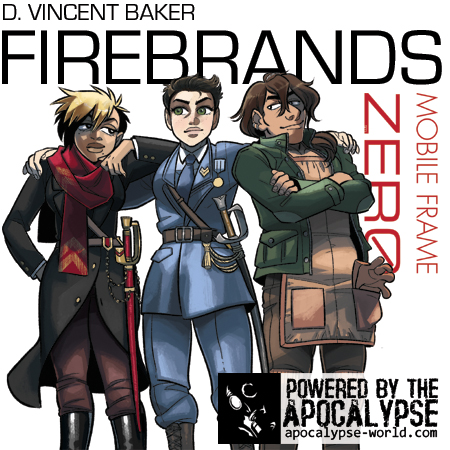 Last night, Gauntlet Portland played Firebrands: Mobile Frame Zero by Vincent Baker!
I put this on the calendar two months ago and, hot lil item that this game is, we had 5 RSVPs and 3 on the waiting list the day of. Schedules being what they are, only 3 of us showed up, but we had an amazing play.
For anyone not familiar: sexy mech pilots from opposing factions, and play consists of procedural 'mini-games' with 0+ others.
A couple areas that sang:
*Narrative authority is handed out perfectly. Everyone has a say on what matters, and others have a say on what builds tension for you. One example is during intimate games, like Stealing Time Together, that use scripted approaches and responses that demonstrate consent (sex ed done right!). Nothing goes down without you being cool about it, but that doesn't mean you can predict what happens next!
*Asymmetry is baked into the premise of three opposing factions, and it echoes through each game when no one party feels like they hold power for long. Never was there a true winner or loser during games, but instead we were left with unfinished business to ramp up tension for the games to come.
Thanks to Andrew Mayer and Isona for playing!